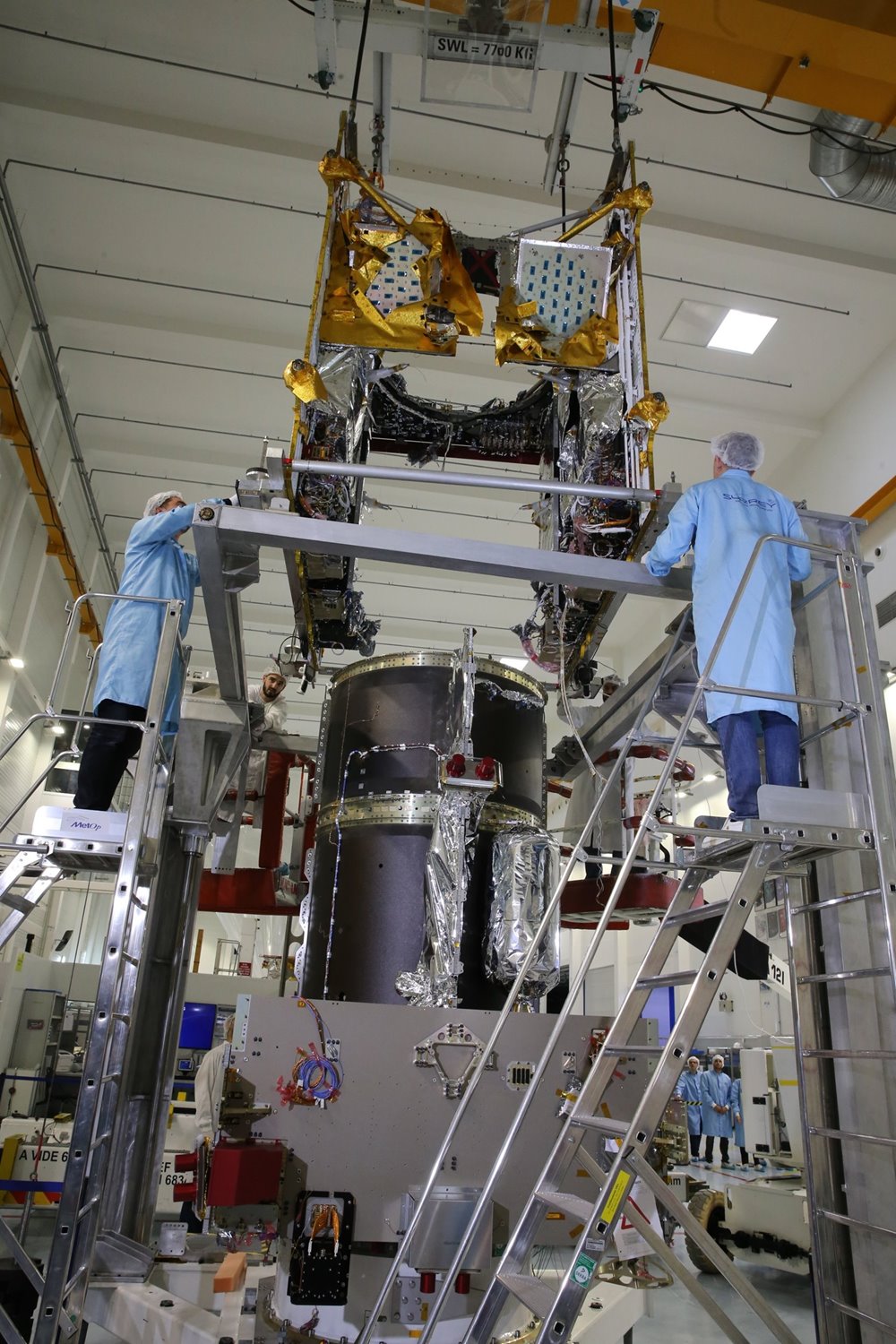 The payload and the platform for the EUTELSAT QUANTUM satellite were successfully joined together at the Airbus facility in Toulouse on 10th May.
The satellite has been developed as an ESA Partnership Project with satellite operator Eutelsat and satellite manufacturer Airbus, under ESA's programme of Advanced Research in Telecommunications Systems (ARTES) leveraging on Surrey Satellite Technology Ltd, which provided the satellite's innovative platform.
SSTL built the innovative small GEO platform for EUTELSAT QUANTUM which was delivered to Toulouse in January and a team of SSTL engineers joined Airbus staff on site to achieve the coupling.
The successful mating of the payload and platform demonstrates the capabilities of Airbus, SSTL and their suppliers, both in the conception and the realisation of the new technologies deployed in this innovative satellite.
Stéphane Lascar, Head of the Telecommunications Satellite Programmes Department at ESA, said: "The coupling of the Quantum payload and platform is a key milestone in the final assembly, integration and test sequence of the satellite. This achievement is based on the excellent cooperation between all partners. It demonstrates the trust of satellite operators, space industry and participating states in ESA to manage efficiently Partnership Projects according to commercial best practices."
The completed satellite will now be tested under the harsh conditions needed to simulate both launch and the space environment in which it will orbit the Earth.
EUTELSAT QUANTUM will be the first generation of universal satellites able to serve any region of the world and adjust to new business without the user needing to procure and launch an entirely new satellite. Featuring phased array antennas and flexible connectivity, which is fully reconfigurable in orbit, the satellite's coverage and capacity can be adjusted to suit customers' needs as and when they change.
The satellite platform consists of a precision-engineered composite central thrust tube standing at 2.5 metres tall which houses a bipropellant chemical propulsion system that will enable the satellite to stay on station throughout its 15 year lifetime, and SSTL's newly developed GEO momentum wheels and gyro which will maintain the satellite in a stable attitude and enable adjustments in the satellite's orbital position.
ARTES Partnership Projects help European and Canadian space industry to develop new products and services, supporting the introduction of novel technologies and solutions that might not otherwise reach the market.
The Quantum partnership has the strong backing of the UK Space Agency and includes UK cutting-edge technology from Airbus UK, Surrey Satellite Technology Ltd and their supply chain.
Image credit: Airbus 2019