A combined team from SSTL and Airbus Defence and Space have been awarded a Bronze Medal in the Team category for outstanding contribution in the advancement of aerospace, science and engineering by the Royal Aeronautical Society.
The Award was presented at a dinner held at the Society's Headquarters at No.4 Hamilton Place, London and staff who worked on the mission from both SSTL and Airbus attended.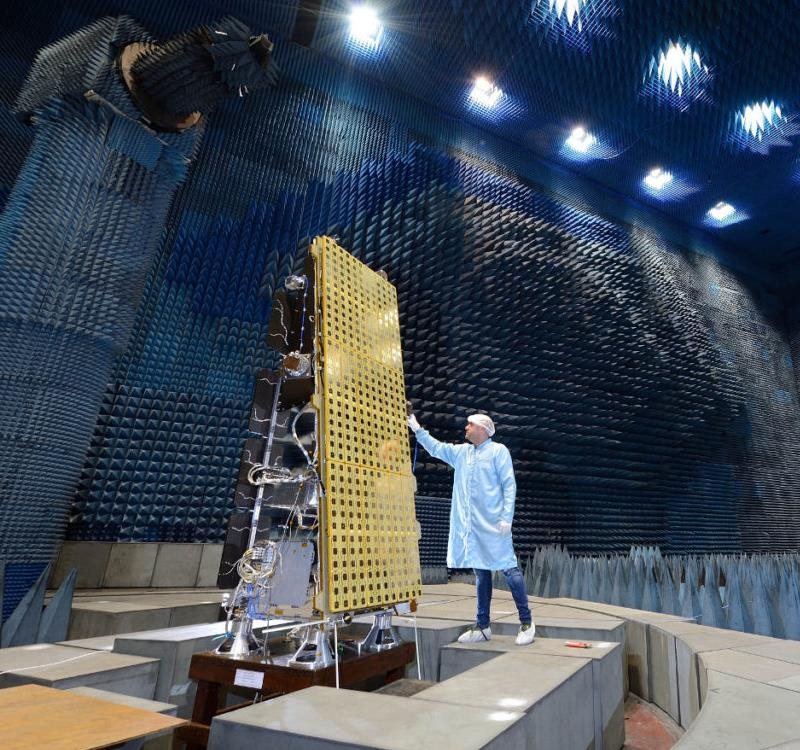 NovaSAR-1 on test at Airbus Defence and Space in Portsmouth. Credit Airbus Defence and Space.
We are delighted to win this award for NovaSAR-1, which is an innovative S-Band Synthetic Aperture mission made possible by utilising the skills and experience from two of the biggest space players in the UK: SSTL were the mission prime and built the satellite platform, while the novel S-band radar payload came from Airbus Defence and Space in Portsmouth. The team comprised of experts from all the fields necessary to design, build, launch and operate the UK's first spaceborne radar imaging satellite and over ten years the team took many problems back to first principals to engineer a system with a unique level of capability relative to the small size of spacecraft.

Technical leadership of the NovaSAR Industry Team was provided by Martin Cohen at Airbus Defence and Space for the payload and Ben Schwarz at SSTL for the platform.

2019 Royal Aeronautical Society Award winners
Full list of RAeS Award winners