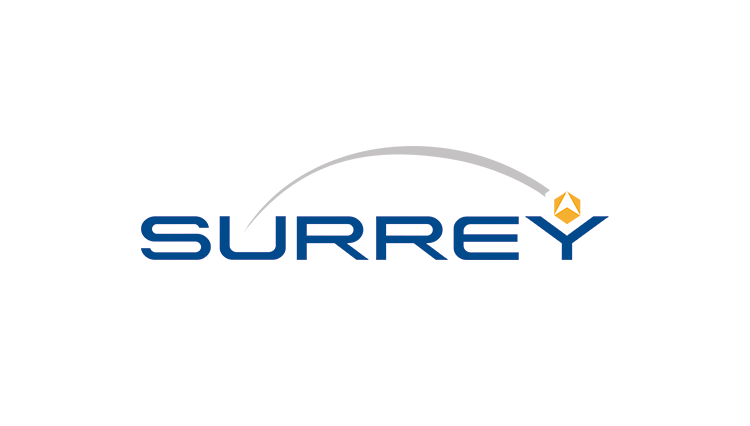 Surrey Satellite Technology Ltd (SSTL), Goonhilly Earth Station (GES) and Astrobotic today announce an agreement to collaborate on delivering a roadmap of innovations that support organisations carrying out operations on and around the Moon.
The trio jointly announced their landmark partnership at the 34th Space Symposium in Colorado Springs. The agreement formalises a long-term close working relationship between the three organisations with the aim of deploying leading edge in-space communication relay services.
The world's leading lunar logistics company, Astrobotic, will begin delivering a regular manifest of uncrewed payload flights to the Moon starting in 2020. Many of the companies, governments, universities, and other non-profit organisations operating payloads on Astrobotic's Peregrine Lander will need sophisticated communication relay services to reach until-now prohibitive destinations on the Moon, including the 'far side'. SSTL plans to service those needs with state-of-the-art data relay services. Goonhilly Earth Station will receive SSTL's data relay and transmit data back to payload customers on Earth.
"Working with SSTL and Goonhilly to provide our payload customers with communication services anywhere on the lunar surface is perfectly aligned with our customer-centric approach," said John Thornton, CEO of Astrobotic. "SSTL is a proven spaceflight pioneer, and we're thrilled they're choosing to partner with Astrobotic to help make their lunar plans a reality."
"The complementary capabilities of Astrobotic, Goonhilly and SSTL allow us to provide a complete mission package that supports and enables a diversity of lunar endeavours, both for commerce and public sector initiatives," commented Anita Bernie, Director of Exploration Missions at SSTL.
"The solutions resulting from this partnership will underpin the development of commercial as well space-agency operations on and around the moon," said Ian Jones, CEO of GES. "We are confident that with our combined expertise, resources, and vision, together we will perform a pivotal role in enabling organisations of all kinds to benefit from the opportunities in space and on the moon."
TO ALL MEDIA
For further information, and/or 1:1 briefings at the 34th Space Symposium in Colorado Springs, please get in touch using the contact details below.
About Astrobotic Inc.
Astrobotic Technology Inc. is a lunar logistics company that delivers payloads to the Moon for companies, governments, universities, non-profit organisations, and individuals. The company's Peregrine spacecraft accommodates multiple customer payloads on a single flight, offering flexibility at an industry-defining low price of $1.2 million per kilogram. Astrobotic is an official partner with NASA through the Lunar CATALYST program, has 23 prior and ongoing NASA contracts, a commercial partnership with Airbus DS, a corporate sponsorship with DHL, 11 deals for its first mission to the Moon, and 110 customer payloads in the pipeline for upcoming missions. Astrobotic was founded in 2007 and is headquartered in Pittsburgh, PA. www.astrobotic.com
About SSTL
Surrey Satellite Technology Limited (SSTL) is the world's leading small satellite company, delivering operational space missions for a range of applications including Earth observation, science, communications, navigation, in-orbit servicing and beyond Earth infrastructure. The Company designs, manufactures and operates high performance satellites and ground systems for a fraction of the price normally associated with space missions, with 500 staff working on turnkey satellite platforms, space-proven satellite subsystems and optical instruments. Since 1981, SSTL has built and launched more than 50 satellites for 20 international customers, as well as providing training and development programmes, consultancy services, and mission studies for ESA, NASA, international governments and commercial customers, with an innovative approach that is changing the economics of space. Headquartered in Guildford, UK, SSTL is part of Airbus.
www.sstl.co.uk
About Goonhilly Earth Station Ltd.
Goonhilly Earth Station Ltd is the privately-owned company that acquired the world-famous Goonhilly satellite station from BT in 2014. Founded by entrepreneur and satellite communications engineer Ian Jones, GES is realising the huge potential at the site. Goonhilly is famous for being one of three earth stations involved in the first transatlantic TV transmission in 1962. It also played a role in the birth of Intelsat, Eutelsat and Inmarsat as well as the Internet itself by linking networks the USA to Europe. Investment and innovation at Goonhilly today is accelerating with a vision to create a multi-faceted space hub, and acting as a driving force in the new space industry. www.goonhilly.org
For media information:
Astrobotic Inc.
Carolyn Pace
carolyn.pace@astrobotic.com
+1 (412) 682-3282
Surrey Satellite Technology Ltd.
Joelle Sykes
j.sykes@sstl.co.uk
+44 (0)1483 804243
Goonhilly Earth Station Ltd.
Cynthia Ritchie
cynthia@whitetigercommunications.net
+44 (0)20 3514 2525
Download PDF
Images
Download Hi-Res